Posts Tagged 'Innovation'
February 4, 2015
2014 was my first full year with HIMSS in consumer health and full of opportunity.
In January, I went to my first Consumer Electronics Show in Las Vegas. It was as massive as I heard, full of large screen TVs, many curved screens, drones, health trackers, etc. I spent most of the time at the Digital Health Summit – a well organized event including patient panels, fitness health device startups, wellness programs, and a demonstration of a exoskeleton. Got to catch up with some friends including Hugo Campos.
At the end of February, I  experienced my first HIMSS conference as staff rather than member. A series of full days in Orlando, most of the time spent managing the new Connected Patient Learning Gallery which was a big success with speakers including Lygeia Ricciardi and Regina Holliday both painting and speaking. Great to spend time with other HIMSS staff and understand what it takes to pull of a successful conference of 36,000 participants.
One of the advantages of working in the Global Center for Health Innovation in Cleveland is that it is attached to the Cleveland Convention Center. As a result, I had the opportunity to attend the Cleveland Clinic Patient Experience Summit in May, the Case Management Society of America in June and the Cleveland Clinic Innovation Summit in October.
In June, I had the opportunity to speak at the Northern Ohio HIMSS conference on the Value of Patient Engagement. There were several other chapter meetings, chapter leader institute, meaningful use meeting and the Nursing Informatics Institute, all well delivered HIMSS events.
In November, I had a great opportunity to present at the D-Data Exchange and attend the Diabetes Mine Innovation Summit. Although I had been to other events like MedicineX and Health 2.0 which advocate for patients and include patients throughout their programs, Diabetes Mine is a close-knit and strong advocacy group of Type 1 diabetics who know their technology and know policy to make their lives better. See my blog post about this on the Maker Culture in Healthcare.
In December, I returned to the HIMSS mHealth Summit in DC. Great presentations on cutting edge technology with an emphasis on what new ideas work and how they can impact patient outcomes. There was also talk about co-development of new apps and technology with patients. I also enjoyed the international flavor of the conference, especially the African representatives discussing ways to use mHealth to address the Ebola crisis.
I had book chapters published including:
Also, I had 3 publications, two journal articles as coauthor with the Chronic Kidney Disease Registry at Cleveland Clinic.
It was also an active year for blogging:
I continue to teach a online course on Clinical Analytics for Kent State University. Great students and a great opportunity. Looking forward to developing a second level course on analytics in 2015.
In 2015, there will be few posts here but more at HIMSS and LinkedIn. Please follow me there.
Share this:
November 10, 2014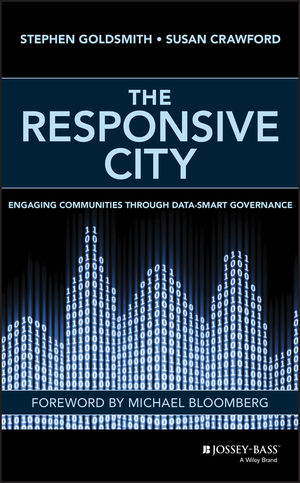 Last week I went to a presentation at the City Club of Cleveland by Susan Crawford from the Berkman Center for the Internet and Society. She is the author of The Responsive City: Engaging Communities Through Data-Smart Governance.  Just a couple of gems from her presentation:
She sees 3 layers – Fiber, Sensors and Screens. That is, a layer of fiber as the backbone of the digital city, sensors everywhere to collect data about the city and screens to visualize data in ways that are meaningful for decision makers and citizens
"Data on the walls of the city" – again, making data available everywhere to improve the life in the city.  This brought to mind the opening of  Fulton Center in New York City – the transportation hub which has screens everywhere.
Worth following this topic and read her book.
Share this:
August 19, 2013
In an interview on GlassStories, Kyle Samani gives the most cogent discussion of the pros and cons of Glass. He emphasizes that there is a cost to glass – not just financial but the fact that you have to wear them all the time while you have a fully functional smart phone in your pocket. So he sees limitations to the appeal to general consumers other than the geek coolness. However, on the enterprise side, especially in medicine, he sees real use cases. Specifically,
physicians (and other healthcare providers) need their hands to work whether it is surgery or a physical exam
physicians (and other healthcare providers) are mobile whether moving from one exam or hospital room to the next or traveling between care sites
physicians (and other healthcare providers) are constantly interacting with people, either patients or colleagues
physicians (and other healthcare providers) need to look things up, communicate with others
physicians (and other healthcare providers) need to have clean hands – handling a mobile phone means transmitting germs, they need to wash their hands after each use even if they are using their mobile device at the bedside. The hands free commands in Glass enable them to avoid this
he also thinks the privacy concerns are exaggerated – less deceptive than a mobile phone
Watch the full video interview.

Share this:
August 15, 2013
Got to visit this new new center in downtown Cleveland last Friday. Great space to demo new health IT – sponsors committed, space still being built out.
See my post on Health IT Link, a new place to follow my content.
Share this:
July 10, 2013
Here are some major advantages:
hands free browsing and video/photos
lightweight and minimally intrusive
can look at someone while browsing or during a hangout rather than looking down at a cell phone
many possibilities for uses in healthcare and medicine – see this article from iMedicalApps. One additional thought – how about physicians receiving alerts on their patients' lab results via Glass
camera quality is excellent
Some downsides or challenges for developers to fix:
dependent on open wireless networks or activating your phone as a personal hotspot ($$$$$)
messages, searches and alerts limited to short text – considering the scale of the device, not sure how much more we can expect. If there is something that requires more detailed attention, we are at least alerted and can view it on a laptop
especially in healthcare, privacy concerns since one can take an image of anyone without their permission. Maybe the device should have a small light indicating that a recording or photo is being taken
If you are close to someone who also has Glass, their device might follow your verbal commands, "OK, Glass". This actually occurred during my orientation
Availability of prescription Glass
Most of these are easy to solve. The challenge is using this new technology in healthcare, developing apps, use cases and broader adoption.
Share this:
July 9, 2013
On day 3, I brought Glass to work and introduced it to my staff and others at the hospital. Unfortunately, I could not connect to the internet thru Glass. The private wireless network did not allow a connection from the device and the public network requires browser authentication (like many airports and hotels) which is not possible in Glass. So the main demo was videos and photos I had already taken and demonstrating how to take photos and videos or having Glass read aloud alerts, such as, those from the New York Times.
So what applications are there for medicine and healthcare for this device? Already there are many ideas coming forward:
Other possibilites include real-time consults using Google Hangouts. This might be particularly effective in complex cases where the camera could be effectively used, such as, dermatology and wound care or my colleagues in ostomy care.
My final query is: who will develop the first healthcare app for Glass? Will it be an adaption of an existing wellness app involving diet and exercise or a medical reference app? By the way, medical reference at least on a basic level could already be experimented with using the Google search feature of Glass and realizing that the the answers will be brief.  Could medical calculators based on voice commands be apps? Would they be sufficiently accurate? Will apps be created which require FDA approval? How about patients wearing Glass to evaluate physician communication and the patient experience for training new medical professionals or seasoned ones?
Obviously, this technology is at an early but exciting stage. In healthcare, concerns about privacy abound, but as it becomes more common and the owner can explain how it is being used, there will develop a level of comfort, just as a skilled provider explaining the use of a computer in the exam room. The possibilities are only limited by the first 8000 Glass Explorers and those who will follow.
Share this: